Our services
Elforest Technologies has evolved into a small company with broad expertise. Our size enables us to run complex technical projects with very limited overhead to achieve quick results. Our customers, often large organizations, save time and resources when they come with their idea to us. Our services range from idea to evaluation of the completed product. While we prefer to participate in the entire development chain, depending on the customer's wishes, we can also participate or be responsible only for selected parts.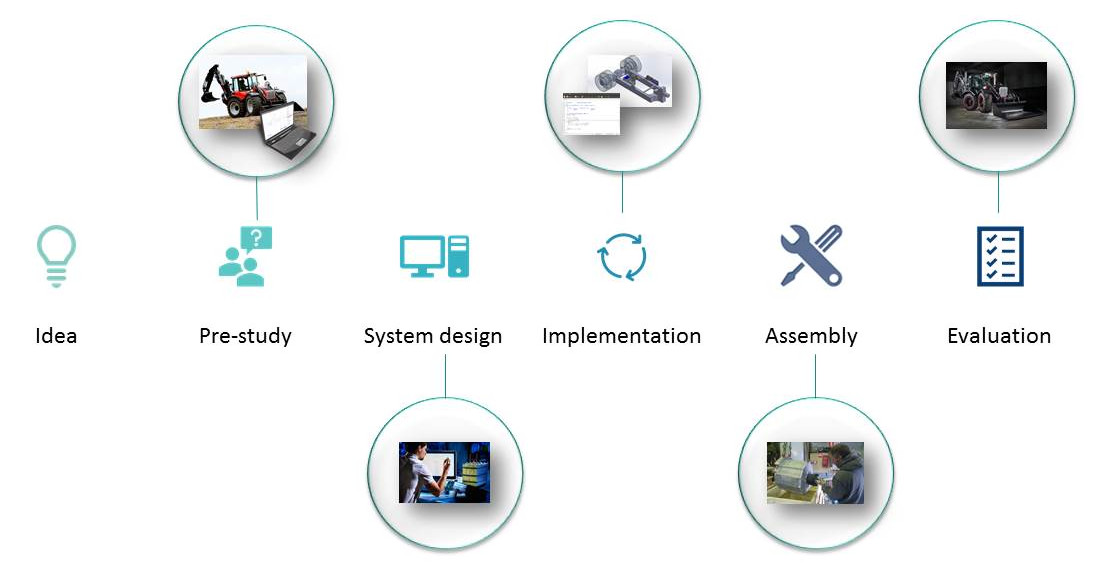 Idea
Elforest's many years of experience in the field ensures that even a relatively small effort by Elforest, during the idea stage, can provide great benefits for the customer. Both costs and lead time can be cut by avoiding common mistakes.
Feasibility study
Elforest can offer advanced feasibility studies of machines of varying sizes. Examples of parts that can be included in a feasibility study are:
Logging of existing machine
By mounting the Elforest CAN bus logger on the vehicle, all information sent via the CAN bus will be recorded and stored. If there is a need for additional information during logging, the vehicle can be equipped with additional sensors. Based on the collected data, a very detailed survey of the machine's driving cycle and flow of energy can be made.
Simulation
Based on the collected data, simulations can be performed to investigate how the machine would perform with, for example, an alternative driveline, energy source or hydraulic components.
Suggestion for alternative solutions
Elforest can present proposals for alternative drivetrains, such as electric or hybrid-electric, according to the requirements provided by the customer.
System design
Elforest can perform system design on both small and large systems, suggest individual components or complete solutions. A system design can include everything from diesel engines and hydraulics, to electrical components such as electric motors, generators, inverters and energy storage. Elforest also has extensive experience in mechanical design where selected components, including any brackets and adapter solutions, are drawn into the customer's existing machine and CAD model.
System integration/implementation
One of Elforest's biggest strengths is to develop and implement control systems, both for electric and hybrid-based drive systems as well as for complete machine control including hydraulics. Our systems engineers have extensive experience in developing both independent control systems and control systems that interact with other subsystems.
Assembly
In the fully equipped prototype workshop, Elforest can assemble parts of or the complete new system. Customers also have the opportunity to deliver a machine to Elforest for, for example, retrofitting a new drivetrain. Installation of everything from 12 V to 750 V systems as well as internal combustion engines and hydraulic systems are possible in the prototype workshop. The work is monitored and even often performed by Elforest's engineers, the same people who designed and constructed the systems.
Test & evaluation
Testing and evaluation can take place both in Elforest's prototype workshop or on site at the customer. Regardless of the alternative, Elforest's engineers are involved all the way. By equipping the machine or vehicle with the Elforest logging system it is possible to monitor everything that happens in each part of the system via the internet. If errors or possible improvements are detected, the subsystem can be updated remotely, without delay, often just minutes after being detected. This means that development can progress with an unbeatable efficiency.